Discover the Unparalleled Beauty of Northern Pakistan
From dramatic mountain ranges to mesmerizing valleys and rich cultural heritage, Northern Pakistan is an unparalleled travel destination that remains largely undiscovered. This region boasts captivating landscapes, ancient forts, and warm-hearted locals, making it an ideal destination for adventure seekers and culture enthusiasts alike. This comprehensive guide will delve into the diverse wonders of Northern Pakistan, providing you with essential information and inspiration for your next trip.
Gilgit-Baltistan: The Land of Majestic Mountains
Northern Pakistan's Gilgit-Baltistan region is where three of the world's mightiest mountain ranges – the Himalayas, Karakoram, and Hindukush – converge. This breathtaking region is home to K2, the second tallest mountain in the world and widely regarded as the most dangerous climb. In total, Gilgit-Baltistan houses five of the 14 worldwide peaks that surpass 8000 meters, as well as over a hundred 7000-meter mountains.
Experience the K2 from Skies, book a helicopter tour to K2. 
Ghizer: The Land of Lakes
Within the territory of Gilgit-Baltistan lies the enchanting region of Ghizer. Known for its stunning lakes, ethereal Ghizer River, picturesque valleys, and Shandur Top, this area offers a plethora of outdoor activities such as hiking, mountaineering, culture tours, trout fishing, and rafting. Shandur Top, also known as the "Roof of the World," hosts the highest elevation polo game in the world, adding to its allure.
Yasin Valley: The Meeting Point of Central Asia
Historically significant due to its unique geography, the Yasin Valley served as a passage for ancient invaders to access the Indian Sub-Continent. This valley boasts a tumultuous history filled with conflict and has been under the control of various powers, including Tibet, China, Russia, and Britain. Recent road improvements have made the region more accessible, offering breathtaking views of the snow-capped Hindukush mountain range.
The Karakoram Highway: The Lifeline of Gilgit-Baltistan
Completed in 1968 to symbolize the relationship between China and Pakistan, the Karakoram Highway serves as a vital connection for both countries. Running along the Indus River, one of Asia's longest rivers, this artery showcases the rich history of Gilgit-Baltistan and has a significant economic and social impact on locals. The highway is adorned with ancient rock carvings created by early invaders, pilgrims, and conquerors, offering a unique glimpse into the region's past.
Hunza Valley: The Valley of Wonders
From historical sites and diverse cultures to awe-inspiring natural wonders, Hunza Valley embodies the essence of Gilgit-Baltistan. This former princely state has become one of the region's premier tourist destinations, offering visitors a plethora of attractions such as tombs, former royal residences, and expansive glaciers. While in Hunza Valley, don't miss the opportunity to explore the Batura Glacier, Passu Glacier, and Borith Lake.
Baltit Fort: The Guardian of Hunza Valley
Constructed over 700 years ago, Baltit Fort played a crucial role in ensuring the rule of the Mir (ruler) of Hunza. Abandoned in 1945, the fort has since been refurbished as a museum, allowing visitors to delve into the rich history of Northern Pakistan. Since 2004, Baltit Fort has been recognized as a UNESCO World Heritage Site, further testament to its significance.
The People: The Heart of Gilgit-Baltistan
Misconceptions often plague the people of Pakistan, with many associating the region with a lack of safety. However, the people of Gilgit-Baltistan are renowned for their ingrained culture of hospitality. They welcome international travelers with a warmth and kindness that is rare in today's world. Staying in a homestay is a popular accommodation option in the region, providing visitors with an inside look at local life.
Islamabad: The Gateway to Northern Pakistan
Begin your Northern Pakistan adventure in Islamabad, the country's capital city. Although not the largest city in Pakistan, Islamabad offers an excellent introduction to the country's culture and history. Spend a day or two exploring Islamabad's attractions, such as the Faisal Mosque, Daman-e-Koh viewpoint, and Pakistan Monument. For a taste of local shopping, head to the Kohsar Market, where you can find exquisite pashminas and Afghan handicrafts.
Accommodation in Islamabad
For a luxurious and unforgettable stay in Islamabad, check into the Serena Hotel. This opulent hotel offers a glimpse into Pakistani culture, architecture, and exquisite interiors. Guests can enjoy amenities such as an outdoor swimming pool, fitness center, and a vast restaurant serving buffet breakfasts.
Skardu: The Gateway to the Mountains
The journey from Islamabad to Skardu is subject to weather conditions, as flights are often canceled due to poor visibility. However, if you're fortunate enough to make the flight, request a seat on the left side of the plane for stunning photo opportunities as you approach the mountain ranges. Upon arrival in Skardu, stock up on dried apricots, walnuts, and almonds for your road trip through Northern Pakistan's remote regions.
Shigar Fort: A Step Back in Time
A couple of hours' drive from Skardu, you'll find the magnificent Shigar Fort, one of Northern Pakistan's most beautiful hotels housed within an ancient fortress. The town of Shigar offers a glimpse into local life, with bustling streets and opportunities to witness a local polo match – a popular sport in the Gilgit-Baltistan region.
Khaplu Palace: A Royal Retreat
Nestled three hours away from Shigar, Khaplu Palace is an architectural gem and a highlight of any trip to Northern Pakistan. This exquisite property offers guided tours of the palace, revealing fascinating insights into its history and surroundings. Enjoy the Royal High Tea on the terrace, or embark on a two-hour hike to Thoqsikhar for panoramic views of the area.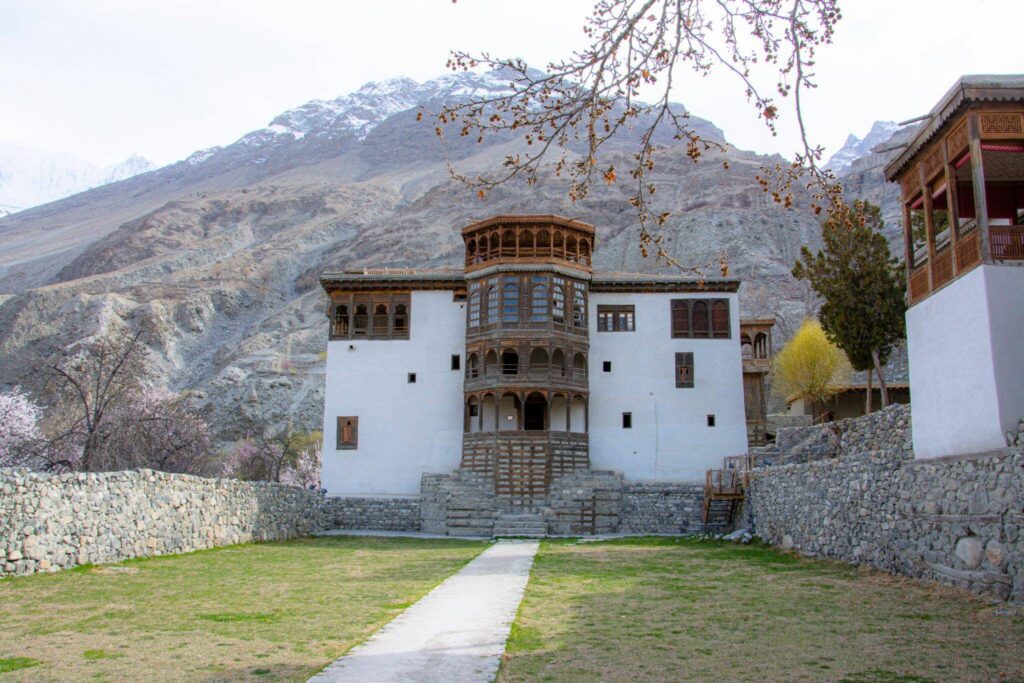 Gilgit: The Epicenter of Gilgit-Baltistan
The drive from Khaplu to Gilgit is lengthy but rewarding, offering breathtaking views of the surrounding landscapes. In Gilgit, visit the victory monument of Taj Mughul and the 7th-century Kargah Buddha rock carving. The Serena Hotel in Gilgit provides a comfortable and welcoming stay, featuring beautiful interiors and delicious buffet breakfasts.
Karimabad, Hunza: A Charming Northern Gem
Karimabad, located in the picturesque Hunza Valley, is an ideal base for exploring the region's many attractions. Renowned for its charm, cleanliness, and high literacy rate, this city offers a plethora of activities and sights, such as the Altit and Baltit forts, local handicraft shops, and stunning Attabad Lake. For a unique experience, visit the rickety "Indiana Jones Bridge" near the Chinese border – an adventure not for the faint-hearted!
Fairy Meadows: A Magical Destination
For the ultimate adventure in Northern Pakistan, embark on a thrilling jeep ride and hike to Fairy Meadows. This enchanting location offers spectacular views of Nanga Parbat and serves as a popular stop en route to its base camp. Swiss-style cabins provide comfortable accommodations, complete with hot water and electricity.
Whether you're a thrill-seeker or a culture enthusiast, Northern Pakistan offers a wealth of experiences that will leave you captivated. From the soaring peaks of Gilgit-Baltistan to the charming towns of Hunza Valley, this region promises to take your breath away and create memories that will last a lifetime.
Experience Nanga Parbat from Skies, book a helicopter tour to Nanga Parbat.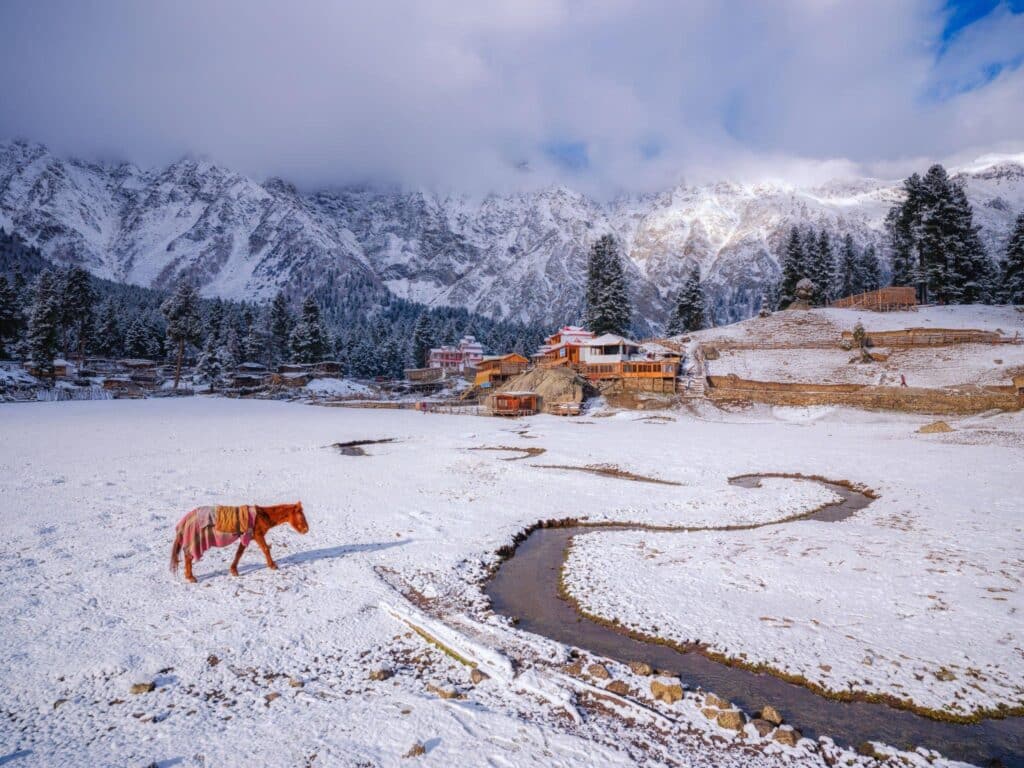 You might be Looking for these questions!
Q. Can you see Northern Lights in Pakistan?
A. The simple answer is no! You can't see Northern Lights in Pakistan.
Q. Is Pakistan in the Northern Hemisphere? 
A. Pakistan is 2,072.80 mi (3,335.85 km) north of the equator, so it is located in the northern hemisphere.