Fairy Meadows In Pakistan
Exploring Fairy Meadows in Pakistan: A Complete Guide
Fairy Meadows in Pakistan, a hidden gem nestled in the Gilgit-Baltistan region, is a must-visit destination for nature lovers and adventure enthusiasts alike. Known for its breathtaking views of Nanga Parbat, the ninth highest mountain in the world, Fairy Meadows offers an unparalleled experience for those seeking a blend of natural beauty and adventure. This comprehensive guide will provide you with all the necessary information to plan your visit to Fairy Meadows, from transportation and accommodation to activities and safety tips.
Introduction to Fairy Meadows

A Brief History of Fairy Meadows

Traveling to Fairy Meadows

Reaching Raikot Bridge

Journey from Raikot Bridge to Tato Village

Hiking from Tato Village to Fairy Meadows

Accommodation Options at Fairy Meadows

Activities to Enjoy at Fairy Meadows

Reflection Lake

Trekking Adventures

Stargazing

Campfire Gatherings

Safety Concerns and Tips

Best Time to Visit Fairy Meadows

Respecting Local Culture

Dealing with Acrophobia

Environmental Sustainability

Conclusion
1. Introduction to Fairy Meadows
Fairy Meadows is a picturesque mountain meadow situated in the Northern region of Pakistan at an altitude of approximately 3,300 meters above sea level. The name "Fairy Meadows" is derived from the German term "Märchenwiesen", which means "Fairy Tale Meadows". This enchanting location serves as an ideal base for trekking enthusiasts, as well as a serene retreat for nature lovers. With its lush green meadows, dense forests, and stunning views of Nanga Parbat, Fairy Meadows is undoubtedly a magical destination worth exploring.
2. A Brief History of Fairy Meadows
Fairy Meadows in Pakistan was discovered by German mountaineers in the early 20th century who were attempting to scale Nanga Parbat. The area was initially known as "Joot" by the locals, but the name Fairy Meadows was later adopted due to its enchanting beauty. In 1995, the Pakistani government recognized the area's potential for tourism and declared it a national park, paving the way for the development of hotels and other facilities to cater to visitors. Since then, Fairy Meadows has become a popular destination for both national and international tourists, attracting those who wish to witness the captivating beauty of Nanga Parbat up close.`
3. Traveling to Fairy Meadows
Getting to Fairy Meadows involves several stages, including reaching Raikot Bridge on the Karakoram Highway, traveling to Tato Village via a dangerous road, and finally hiking to Fairy Meadows itself.
3.1. Reaching Raikot Bridge
The first step in reaching Fairy Meadows is to make your way to Raikot Bridge, located on the Karakoram Highway about an hour away from Gilgit. You can reach Gilgit either by flying from Islamabad or taking an 18-hour bus ride, both of which have their pros and cons. If you opt for the bus journey, you can request to be dropped off at Raikot Bridge before reaching Gilgit, making the trip more convenient.
3.2. Journey from Raikot Bridge to Tato Village
From Raikot Bridge, you will need to hire a local jeep and driver to take you up the treacherous road to Tato Village. This journey, known as one of the deadliest roads in the world, takes around two and a half hours and requires nerves of steel due to the narrow, winding path along the mountain face. Only locals are permitted to drive on this road, and the cost of hiring a jeep and driver can be quite expensive, especially for solo travelers. However, the thrill of navigating this dangerous road is an experience in itself and serves as a fitting introduction to the adventure that awaits at Fairy Meadows.
3.3. Hiking from Tato Village to Fairy Meadows
Upon reaching Tato Village, also known as Fairy Point, you will need to embark on a two to three-hour hike to reach Fairy Meadows. The hike starts at an altitude of around 2,600 meters and ascends through a dense forest, eventually reaching the meadow at 3,300 meters. It is essential to pack light and leave any unnecessary luggage behind in Gilgit or at your previous accommodation, as carrying heavy bags can make the hike significantly more challenging. Alternatively, you can hire a horse for the journey if you prefer not to hike.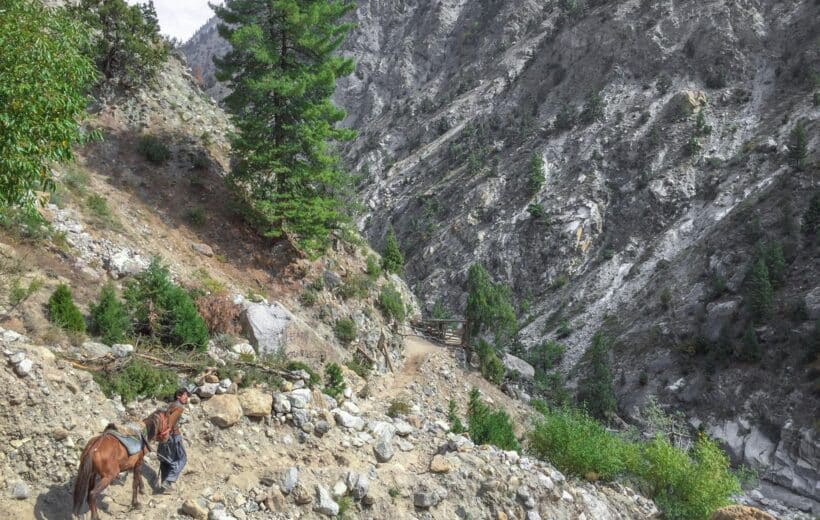 4. Accommodation Options at Fairy Meadows
Despite its remote location, Fairy Meadows offers a variety of accommodation options for visitors. Some popular choices include Raikot Sarai, Fairy Meadows Greenland Resort, and Fairy Meadows Cottages. These establishments provide comfortable cabins with stunning views of Nanga Parbat, as well as on-site restaurants and campfire facilities for guests to enjoy during their stay. You can also visit our website to find best accommodations in Fairy Meadows. 
5. Activities to Enjoy at Fairy Meadows
Fairy Meadows offers a range of activities for visitors to partake in, ensuring a memorable experience for all.
One of the most picturesque spots at Fairy Meadows is Reflection Lake, a small body of water that provides a perfect reflection of Nanga Parbat on clear days. Located in the western part of the meadow, the lake is easily accessible and offers an excellent opportunity for photography enthusiasts to capture stunning images of the mountain and its surroundings.
Fairy Meadows serves as an excellent base for various trekking expeditions, including hikes to Beyal Camp, Nanga Parbat base camp, and the Raikot Glacier viewpoint. The trek to Beyal Camp is relatively easy and takes about two hours, while the more challenging Nanga Parbat base camp trek can take up to eight hours round trip. Regardless of your experience level or desired intensity, there are trekking options available at Fairy Meadows to suit all preferences.
Due to its high altitude and remote location, Fairy Meadows offers incredible stargazing opportunities. On clear nights, visitors can witness the Milky Way and other celestial wonders, making for an unforgettable experience. Be sure to bring a camera capable of capturing night sky photography to document this magical spectacle.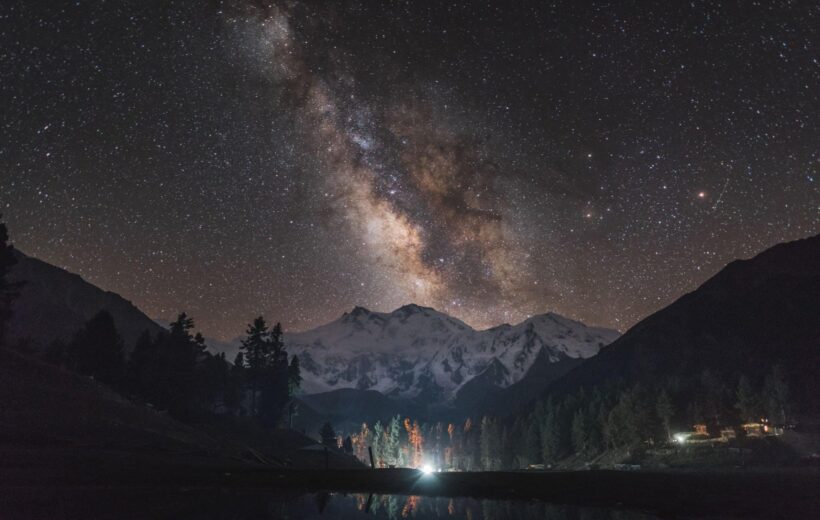 Many of the accommodations at Fairy Meadows provide campfire facilities, allowing guests to gather around a warm fire in the evenings and share stories with fellow travelers. These gatherings provide a unique opportunity to connect with others and create lasting memories of your time at Fairy Meadows.
6. Safety Concerns and Tips
While Fairy Meadows is generally considered a safe destination, visitors should be aware of the potential risks associated with traveling in the region. The road to Fairy Meadows is notoriously dangerous, and although accidents are rare, it is essential to exercise caution during the journey. Additionally, when embarking on trekking expeditions, it is crucial to be prepared for sudden changes in weather and to follow appropriate mountain safety guidelines.
7. Best Time to Visit Fairy Meadows
The ideal time to visit Fairy Meadows is during the shoulder seasons of May, June, September, and October. During these months, the weather is generally favorable, and the area is less crowded than during the peak summer months of July and August. Visiting during the shoulder seasons allows visitors to enjoy the beauty and tranquility of Fairy Meadows without the crowds.
8. Respecting Local Culture
When visiting Fairy Meadows, it is essential to be respectful of the local culture and customs. Avoid taking photographs of local villagers or their homes without permission and maintain a respectful distance from the community. Engage with local hotel owners and tour guides, who are often more than happy to share their knowledge and insights about the area.
9. Dealing with Acrophobia
If you have a fear of heights, the journey to Fairy Meadows may prove challenging. The road to Tato Village is particularly daunting, with its narrow path and steep drop-offs. It is essential to be aware of your personal limits and develop coping strategies for dealing with your fear during the journey. Some options may include focusing on the road ahead, engaging in conversation with fellow travelers, or simply avoiding looking down during the drive.
10. Environmental Sustainability
Fairy Meadows relies on renewable energy sources, such as hydropower, to provide electricity for the area. This sustainable approach helps minimize the environmental impact of tourism on this pristine location. As a visitor, it is essential to adopt eco-friendly practices during your visit, including minimizing waste, conserving resources, and respecting the natural environment.
In conclusion, Fairy Meadows in Pakistan is an awe-inspiring destination that offers a unique blend of natural beauty and adventure. With its stunning views of Nanga Parbat, lush meadows, and thrilling trekking opportunities, a visit to Fairy Meadows is sure to create lasting memories. By following this comprehensive guide, you can plan a safe, enjoyable, and unforgettable trip to this enchanting destination. So, pack your bags, gather your courage, and embark on the adventure of a lifetime in Fairy Meadows.