Discovering Pakistan's Coastal Beauty
Discovering Pakistan's Coastal Beauty: A Guide to The Top 10 Beaches
Pakistan, a country rich in diverse landscapes and cultural heritage, is also home to some of the most beautiful and unexplored beaches in the world. Nestled primarily in the provinces of Sindh and Balochistan, these stunning coastal stretches offer an enticing blend of sun, sea, sand, and serenity. From bustling beachfronts brimming with activities to secluded sandy shores promising tranquility, Pakistan's beaches hold a surprise for every visitor.
1. Gwadar Beach: The Seaport Gem
Gwadar Beach, situated in the heart of Gwadar city, is a bustling hub of activity. This beach is not just about sun and sand, but also about observing the fascinating world of maritime trade. Gwadar seaport, a significant asset for Pakistan, offers a unique backdrop to this beach. Visitors can witness large vessels docking at the port, unloading their cargo, adding a touch of industrial charm to the natural beauty of the beach.
Gwadar Beach is a popular spot for locals, especially during the cooler evening hours. Families gather to enjoy the clean red sand and relax by the sea, making it one of the most frequented beaches in Pakistan.

Gwadar on Google Maps.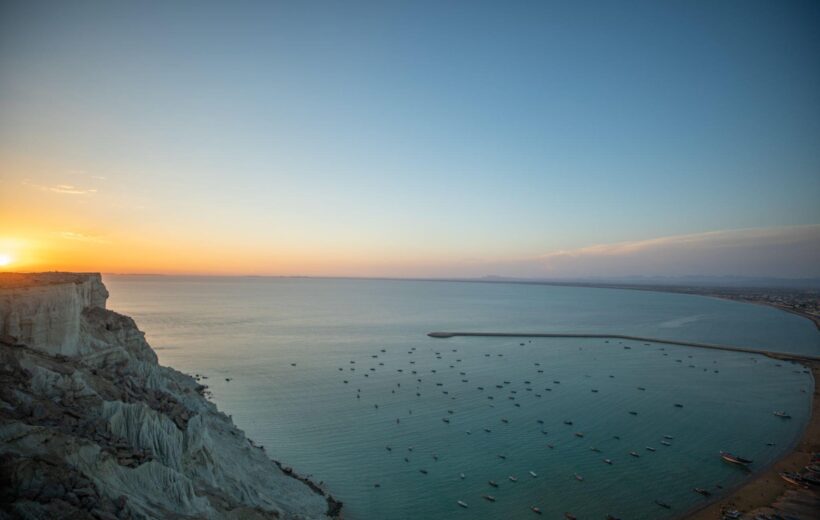 2. Sapat Beach: The Sandy Paradise in Balochistan
Tucked away on the Makran Coast in the Lasbela region of Balochistan, Sapat Beach is a sandy haven for beach lovers. The beach is characterized by a unique cliff rising from the coastal sand, with rock formations lining the coast.
Sapat Beach is not just about the sand and surf; it's also home to a rich variety of marine life, including crabs and jellyfish. One of the unique features of this beach is the dramatic change in its seascape, with calm waters during the day transforming into high tides at night that touch the base of nearby islands.
3. Kund Malir Beach: A Scenic Retreat
Located in Hingol National Park on the Makran Coast Highway, Kund Malir Beach is a picturesque coastal retreat. Surrounded by mountains and lush vegetation, the beach offers a stunning contrast of blue waters against a rugged mountainous backdrop.
The road to Kund Malir Beach is an experience in itself, offering scenic views of the surrounding landscape. The beach, with its pristine waters and serene ambiance, is an ideal spot for those seeking a peaceful escape.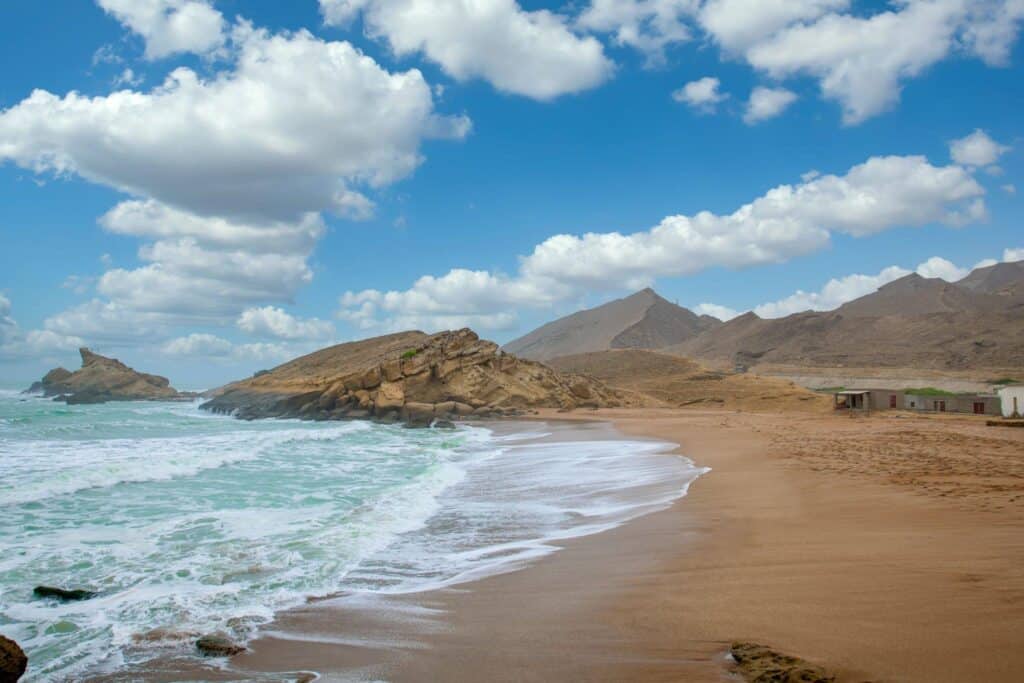 4. Jiwani Beach: The Historic Charm
Steeped in history, Jiwani Beach was once a strategic location for the British Army during World War II. Today, the beach is a popular attraction for tourists and photographers, offering stunning vistas and a slice of history.
Jiwani Beach is located between Gwadar and Chabahar, at the eastern end of Gwadar Bay. The bay is home to a large mangrove forest, an important habitat for a variety of wildlife, including the endangered Green and Ridley Sea Turtles. The stunning sunsets at Jiwani Beach are a sight to behold, making it a must-visit spot on the Pakistani coastal road.
5. Pasni Beach: The Golden Dune Beauty
Pasni Beach, although not widely known, is a beautiful coastal spot in the Gwadar region. This beach boasts the natural beauty of golden dunes. Despite the increasing population in the area, the beach retains its natural charm, though the lack of tourist facilities can be a dampener.
Pasni is a small town and fishing port in Balochistan's Gwadar district. The beach is primarily dedicated to fishing, adding to its rustic charm.
6. Ormara Beach: The Remote Beauty
Ormara Beach, located on the Makran Coastal Road, offers a blend of historical significance and natural beauty. It is believed that Alexander the Great made a stopover in this area during his South Asian conquest. The remoteness of the beach adds to its allure, though it can pose connectivity issues due to patchy cell phone signal coverage.
Ormara Beach is a naval base located on the Makran Coast Highway between Karachi and Gwadar. From the beach, you can see several aircraft carriers, adding a unique touch to the natural beauty of the area.
7. Hawks Bay Beach: The Picnic Hotspot
Situated 20 kilometers southwest of Karachi city, Hawks Bay Beach is one of the city's popular beachfronts. The beach is named after Bladen Wilmer Hawke, who owned a beach house here in the 1930s.
Hawks Bay Beach is known for its clear waters and sandy beach, making it a perfect spot for relaxation and recreation. The beach is also a breeding ground for the endangered Green Turtles, who choose this beach to lay their eggs. A visit to Hawks Bay Beach offers a unique opportunity to witness one of nature's most fascinating phenomena.
8. Sea View Clifton Karachi: The Popular Hangout
Sea View Clifton Beach in Karachi is a favorite hangout spot for locals and tourists alike. The beach bustles with activity, offering a variety of recreational options. From horse and camel rides to beach games and street food stalls, there's something for everyone at this vibrant beach.
One of the key attractions of Clifton Beach is the cool sea waves, which offer a refreshing respite from the city's heat.

Sea View Clifton Karachi on Google Maps
9. Manora Beach: The Peninsula Beauty
Manora, a small peninsula south of Karachi's port, is a delightful coastal spot. The peninsula is connected to the mainland by a 12km bridge called Sandspit. Manora and its neighboring islands form a protective barrier between Karachi's port and the Arabian Sea.
Manora Beach is a popular spot for dhow rides, offering a unique way to view the city from the sea. The beach is home to a diverse mix of ethnic communities, adding to its cultural charm.
10. Sonmiani Beach: The Restricted Beauty
Sonmiani Beach, located in the Lasbela District of Balochistan, is one of Pakistan's cleanest beaches. The beach is a restricted area, and visitors require special permits to access it. But those who manage to visit this beach are rewarded with pristine beauty and tranquility.
Despite its restricted access, Sonmiani Beach offers a range of activities for its visitors. Whether you want to enjoy the weather, engage in beach games, or simply take a walk along the shore, Sonmiani Beach offers a memorable experience.
In conclusion, Pakistan's beaches are a treasure trove of natural beauty, offering a refreshing break from the hustle and bustle of city life. Whether you're a thrill-seeker, a nature lover, or a history buff, these beaches have something to offer for everyone. So, pack your beach essentials and get ready to explore the uncharted beauty of Pakistan's coastal gems.